A presentation structure includes an introduction, context, main body, conclusion, and scope for questions. Depending on the type of presentation you're doing, this format can change. The article discusses various considerations for each section of a presentation structure.
For presentations to be understood and create a good impression, they can't be haphazard. It has to have some sort of pre-planned presentation structure that is both logical and simple enough. Depending on the type of presentation you're doing, there are likely some basic frameworks available that people tend to follow. Before we delve into the format, let's consider key points to consider when planning a presentation.
How do you structure and plan a presentation?
We plan a presentation by considering the type of presentation, who our audience is, ideating the purpose, and formulating subtopics through research.
Consider the type of presentation
This leads to understanding the ideal flow to convey your content best. For instance, for persuasive presentations, you could use creative ways to convey what is best about a product, such as starting with a story about how it has helped many people achieve something.
On the other hand, for a progress presentation at your workplace, you might have conventions about what is expected, which must be followed precisely.
A few other types of presentations include:
Informative presentations
Instructive presentations
Motivational presentations
Analytical presentations
You might also want to consider if you want audience interaction and put that into the structure accordingly. While some allow questions mid-presentation for smaller audiences, it is typically left towards the end.
Consider your audience's knowledge level and interests
This will determine if you can assume a particular knowledge base and not include it in your presentation structure or if you have to start off with basics and build up on that.
For instance, if you're teaching 1st-year students about something, you might start with basics. But for graduates, a similar format would be unnecessary as they might have already learned about it.
Similarly, if your purpose is to deliver something entertaining, knowing about the interests and values of your audience helps a ton.
How?
The most simple way is demographics. It's typically quite easy to find out the expected age group, gender, etc of the audience. This information can help you have a basic idea of the sort of experiences they go through, which helps formulate an understanding.
Consider the purpose of your presentation
While this may seem obvious, many of us lose track of the main purpose and spend too much time on remotely related content. This diverts attention from the topic and might even cause boredom.
For example, if you're advocating for some social action, it would be beneficial to stay on the topic itself, like the pros, cons, what can be done practically, etc. Instead, if the presenters spend more time criticizing others, the presentation will fall short of its purpose.
Few other examples of different purposes your presentation could have:
Entertainment
Providing information
Telling your story
Proposing ideas
Discussing future plans for the company
Research your topic and start noting down the subtopics
Skip this if you already know exactly what needs to be a part of your presentation, and plan to include just that. While looking up your topic, you'll discover the various sub-topics within that field. After you start noting them down, you can organize later what comes under which to build a structure.
Here is a guide on short presentations that you might be interested in.
So with these three considerations and subtopics in mind, we're good to go over to decide our final structure.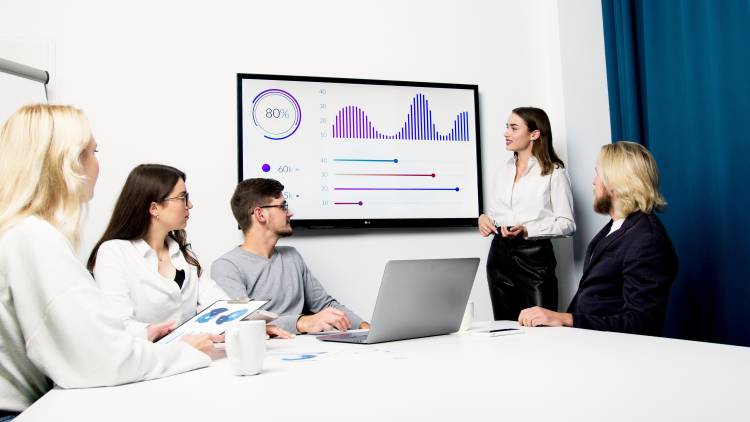 What is the best presentation form?
The best presentation format is one that includes the introduction, context, main body, conclusion, and questions.
Here, we will discuss a template or structure for a typical presentation.
Introduction
Greet the audience and introduce yourself, e.g., what you do and why you're here
The purpose of your presentation
The flow or outline gives a sense of what they can expect
Context
Depending on the topic and audience, you might have to provide more or less context about your topic
This could include a brief history, terminologies, the current market status, the current status of the field, etc.
Main body
Includes the full depth of the primary purpose of the presentation
All major chunks of data, including examples, evidence like research studies, etc, are included here
Care needs to be taken at times to ensure that your introduction and context are not taking up so much time that the main body isn't receiving enough attention. Ever wonder if a presentation can be too short? Check out this article.
Conclusion
Summarize 
Bring emphasis to the main takeaways
Thank your audience if they have been a good one
Questions
Take questions and encourage healthy discussion
End with sharing ways they can address their questions later
To make sure that the structure works out, it is important that you practice your presentation. This will also tell you if you're falling within the time constraints. Here is a guide on how you can go about practicing your presentation.
5 Ways to Structure Your Presentation
The five ways include ordered, problem-solution, comparative, storytelling, and demonstrating structures.
1. Ordered Structure
The presentation follows a logical sequence starting with an introduction, main points, and then conclusions. This is what this article has focused on, as it's the most straightforward method and tends to be very clear for the audience. However, for presentations that do not follow a clear progression, this may not be useful.
2. Problem-Solution Structure
This is useful when persuading the audience. You explain the problem (+ its importance and impact) and then provide a solution that motivates the audience to take it. This could be in the form of a product, a particular method of communication, some technical thing, etc. There should be a decent amount of time spent on the benefits of the solution as well as the exact "How?" to implement it to make the audience convinced. It helps to address any questions or barriers you expect them to have during the speech itself.
3. Comparative Method
This is useful when you want to highlight the benefits of something over alternatives. It is ideal to first fully address the alternatives by talking about their benefits and limitations. Then you lastly talk about the solution that you possess that effectively addresses the other limitations or is in some way a better choice than others, based on your arguments.
Alternatively, if you do not want to highlight the benefits of something particular and just form a comparison that demonstrates the pros and cons of different subjects in an unbiased manner, this technique is still used. For instance, how the main benefit of a product is practically useful for the consumer in comparison to the main benefit of another product can be discussed.
4. Storytelling Structure
This is useful when your goal is just to tell a story. This could be to explain the context or history of a company. It could also serve to talk about yourself and how you got there. A story will typically have an introduction, a complicating factor that introduces some challenges, and then an ending that highlights the importance of some action or belief. 
You may also go in a timewise order when explaining a story. This might take away from the thrill but is useful nonetheless when it is required for the audience to properly understand what is being conveyed. Storytelling can be done in various ways, so feel free to find your own structure.
5. Demonstration Structure
This is useful when demonstrating products or services. The benefits of the product/service are highlighted and it is demonstrated showing those capabilities. The goal should be on persuading the audience that it is useful to them for their needs.
How to structure a scientific presentation?
Structuring a scientific presentation typically includes an introduction, methods, results, and discussion.
This typically follows the below format, but depending on the university/conference guidelines, you'll have to adjust accordingly. The rest of the sub-topics revolves around these sections.
Title 
Introduction/Background 
Literature review (if applicable)
Methods
Results
Discussion
Conclusion
Acknowledgments (often optional)
References
After this, time is given to take questions.
How do you structure a presentation script?
The presentation never includes the full extent of the information. It's just a concise version of what you're speaking that adds as a visual aid at times while also highlighting major points. 
The script is where the major content lies. The structure remains the same, but the content is greater in depth.
Sample Presentation Script
To make it easier for you to understand how you can structure your presentation script, here is a sample script for a presentation on the topic: Importance of Public Speaking.
This follows the same flow introduced earlier- introduction, context, main body, conclusion, and questions.
Title: Importance of Public Speaking
Slide 1: Why is Public Speaking Important?
Greetings, ladies, and gentlemen. Today, I will be exploring the importance of public speaking. My name is John, and I'm thrilled to discuss with you how improving our public speaking abilities may make a significant difference in our quality of life in the personal, social, and professional domains.
Slide 2: Introduction
Public speaking involves persuading an audience with a well-organized message. It is an essential part of our daily lives. We use it when we make conversation in social groups as well as when we address enormous crowds at social gatherings. It is a highly multifaceted and effective tool.
I will start off by giving some information about the context, moving on to its benefits, which is the main crux of our presentation, and then we will spend some time concluding.
Slide 3: Context
Effective communication is essential in our globally interconnected society. Speaking in front of an audience enables us to express our views and thoughts clearly and firmly. It facilitates the development of solid bonds and influences others, and acts as a catalyst for constructive change. Public speaking may open doors of opportunity and propel achievement for anyone, whether they are a student, professional, or member of the community.
Slide 4: Personal Development
Public speaking increases self-esteem and confidence, which are quite rudimentary to our self-efficacy. Effective communication skills help us to be more assertive and feel more in control of our lives. Research suggests that having an internal locus of control (i.e., feeling in control) leads to better outcomes in our personal lives as well as greater mental health. 
As we organize our ideas and arguments through public speaking, it improves critical thinking and organizational abilities. Furthermore, as we interact with others during talks and Q&A sessions, public speaking also enhances our listening abilities.
Slide 5: Professional Advancement
The ability to speak in front of an audience effectively is highly essential in most workplaces.
You ask Why?
Well, it is because we are better able to communicate our qualifications and worth to potential employers, which enhances our performance in job interviews.
Secondly, our influence within organizations grows when we can make a strong case for our points in meetings and conferences.
Next, for leadership positions, where success depends on inspiring and motivating others, public speaking is critical.
And in general, you'll need public speaking in any meeting or any talk you would typically deliver in front of a bunch of people. 
Slide 6: Conclusion
Public speaking is a sought-after, multifaceted, and handy skill across many settings.
It gives us the ability to inspire others, tell our stories, and make a lasting impression. Strong public speaking abilities help us communicate clearly and lead with influence in many facets of our lives.
Slide 7: Questions
I appreciate everyone here for being a great audience and cooperating wonderfully throughout the presentation. Now I will be taking any questions you all have. Feel free to discuss this now or reach out to me after the session is over.
Slide 8: Thank you
I want to thank you all for being here today.
I hope that the presentation did well to emphasize the importance of public speaking and perhaps motivated at least some of you to work on improving your abilities.
We will end here.
[End of presentation]
Here are some tips for delivering an effective presentation.
Conclusion
We considered a few key points for presentation structure and the typical format that can be followed. We also covered five ways you can structure your presentation and the format for a scientific presentation. Lastly, we covered a sample script for presentations.
Public speaking coaching is a great way to increase your skills and get better at presentations as well.